History
The earliest mentions of "Sanctus Privatus" date back to about 1220. Worship of Saint Privat, who was not a local saint, may have travelled up the Loire with sailors who settled in the village around that time. The Levault Motte (mound), near the former level crossing on the Auxerre–Gien railway line, is believed to have been built in the 13th century by the Lord of Gien to keep an eye on the road from Saint-Fargeau to Bléneau (where the Gâtinais region begins) and the movements of his rival, the Lord of Toucy. It was dominated by a stronghold, an oval brick construction linked by two round towers that was probably destroyed during the Hundred Years War. A series of lakes, long since dried up, were connected to an oxbow lake formed by the River Loing, making the mound hard to reach. The surrounding fields could have been flooded quickly if it was attacked.
Another mound on the former royal road, the Motte-les-Saint-Privé, now known simply as "La Motte", was built to protect travellers. It is still clearly visible despite a dense covering of shrubs.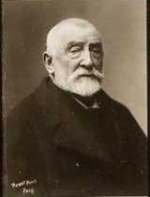 "At the far end of the cemetery of Saint-Privé, tucked away behind dense vegetation, you can find the tomb of the landscape artist Henri HARPIGNIES (1819-1916).
Described by Anatole FRANCE as the "Michelangelo of trees and traquil countryside", he joined Corot of the Barbizon School before exhibiting his works at the 'Salons'. Harpignies also painted landscapes of Italy and the Côte d'Azur" (Phillipe LANDRU 2007).